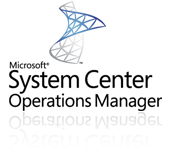 The eG Universal Management Pack for SCOM, part of the eG Enterprise IT performance monitoring suite, augments Microsoft SCOM's monitoring capabilities, enabling it to become a truly unified monitoring and diagnosis console for today's heterogeneous IT infrastructures. The recent release of eG Enterprise version 6.2 has introduced newer functionality and greater monitoring support for the eG Universal Management Pack for SCOM. In this article, we'll look at these new features in detail.
#1 Infrastructure-Wide Unified Management Topology
With this new release, administrators can now see an infrastructure-wide, unified management topology map in Microsoft SCOM that spans multi-vendor devices and heterogeneous infrastructures across physical, virtual and cloud environments. Imagine a single topology view that provides a comprehensive health overview of your entire infrastructure, across Microsoft and non-Microsoft (VMware, SAP, Citrix, AWS, Nutanix, etc.) environments: eG Enterprise 6.2 has made this a reality, within SCOM.
eG Universal Management Pack for SCOM auto-discovers all components managed by eG Enterprise and dynamically prepares the topology view that highlights, at a glance, the health of all infrastructure components. For interface consistency, alerts are represented in SCOM's standard color coding (green for healthy, yellow for warning, and red for critical). With a single click, SCOM administrators can easily drill down to the SCOM Health Explorer for further diagnosis, or access the eG Enterprise web console for detailed performance analysis.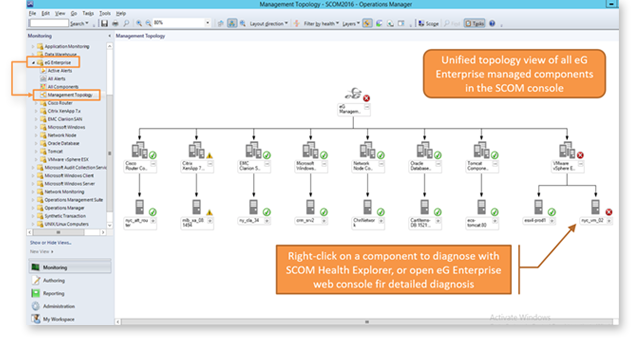 In addition to the unified management topology, eG Enterprise 6.2 introduces a component topology view which allows SCOM administrators to get component-specific topology maps. For example, you can view the topology of all VMware servers managed by eG Enterprise within SCOM. This is extremely helpful for domain experts such as Citrix administrators, VMware experts, and Oracle administrators.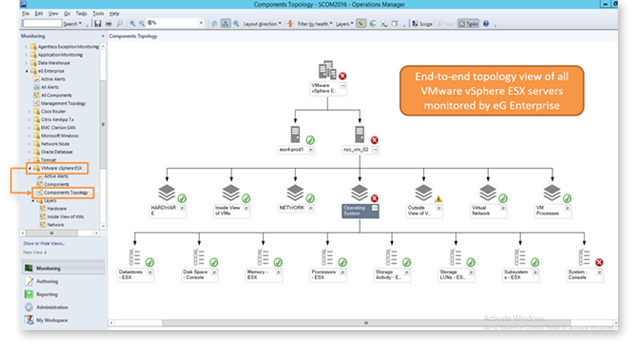 #2 Component Overview Dashboard
An extension of the component-specific topology is the component overview dashboard. From this dashboard, SCOM administrators can quickly see the health state and number of alerts for each component monitored by eG Enterprise. One-click drill-downs allow for deeper analysis of the components in "unhealthy" state for troubleshooting.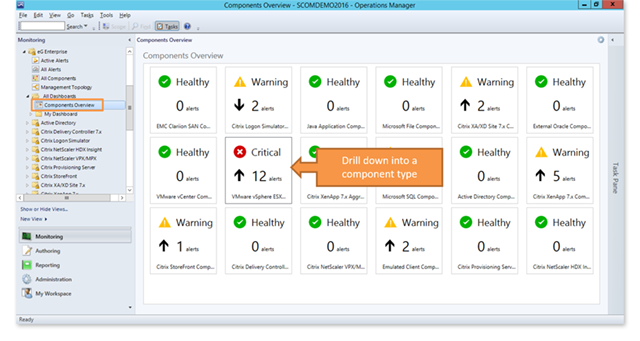 #3 Auto-Publish eG Enterprise Dashboards in SCOM
The eG Universal Management Pack can now automatically publish eG Enterprise's 'My Dashboards' to the SCOM console. From the eG Enterprise web console, administrators can select which dashboards to publish. Once published, the dashboards will be available in SCOM console and provide a real-time display of the monitoring data. The screen below shows a Citrix dashboard published in SCOM. This new capability enhances administrators' ability to analyze performance metrics in SCOM. They no longer need to switch to the eG Enterprise console just to view live dashboards: it's all available directly within the SCOM console.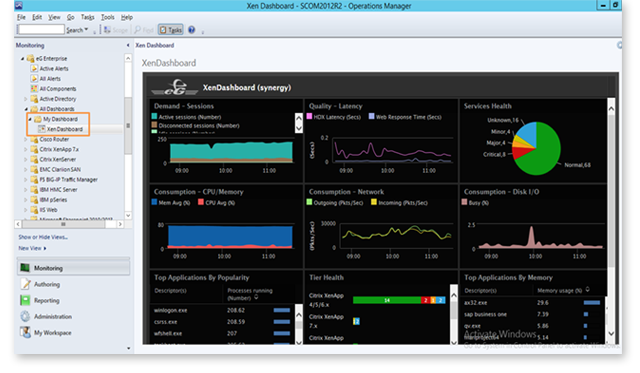 eG Enterprise version 6.2 adds new, powerful  application performance monitoring (APM) capabilities, including:
Business transaction tracing
This new release also adds monitoring support for new technologies such as Nutanix hyper-converged infrastructure, NVDIA GPU cards, Windows Server 2016, SQL Server 2016, Citrix logon simulation, and more. Each of these new capabilities is also available to SCOM administrators, via the eG Universal Management Pack for SCOM.
Add the eG Universal Management Pack to transform SCOM into your single monitoring console for both Microsoft and non-Microsoft environments.
Learn more about eG Universal Management Pack for SCOM »
Learn more about the new features shipped with eG Enterprise 6.2 »
eG Enterprise is an Observability solution for Modern IT. Monitor digital workspaces,
web applications, SaaS services, cloud and containers from a single pane of glass.