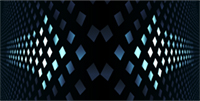 As enterprises increasingly rely on websites and web applications to deliver mission-critical business services, the need to ensure high application uptime, peak performance, and superior user experience is greater than ever. Application failures and performance slowdowns have a massive impact on business productivity. Using traditional monitoring tools to track the CPU, memory and disk utilization of the server farm is not sufficient for troubleshooting today. Administrators need to quickly get an answer to the most common question: "Why is my application slow?". This is where full stack monitoring comes in.
What Causes Application Problems?
Application problems can stem from any part of the infrastructure: poorly-written application code, server issues, slow database queries, network connectivity, storage hotspots, or even virtualization issues. Most application performance monitoring (APM) tools focus on the application layer and the business transactions, but they do not provide enough visibility into the infrastructure, where many performance issues can originate.
In contrast, there are also many infrastructure monitoring tools in the market that focus on providing visibility into the various components and silos of the IT infrastructure, such as network, server, storage, and virtualization. But without an application-centric view of the infrastructure, it is not possible to receive contextual insight into how and when the application performance is affected by infrastructure problems.
eG Enterprise Version 6.2 introduces the industry's first converged application and infrastructure monitoring solution, including end-to-end service visibility, dependency mapping, correlative intelligence and automatic root cause diagnosis. From a single console, administrators can:
Measure end-user experience using real user monitoring and synthetic monitoring capabilities, and identify times when customers are encountering slow page loading, errors and outages
Trace business transactions across the application runtime architecture, and isolate the tier (web server, application server, database, external calls) that are causing slowness
Gain code-level application visibility to identify which part of the application code or database query is affecting execution time
Monitor all aspects of the application framework and databases to identify performance abnormalities
Get deep-dive visibility into all infrastructure components and understand their relationship with the customer-facing application
Visualize your entire service topology and automatically diagnose the root cause of application slowness for performance troubleshooting
eG Enterprise provides full stack monitoring of web applications, tracking every tier and every layer involved in the service delivery – front-end user experience, business transactions, application code, server-side infrastructure, database, network, storage, virtualization, and more. Using a patented auto-correlation technology, eG Enterprise automatically pinpoints the root cause of application problems and accelerates troubleshooting across any physical, virtual, cloud, and container environment.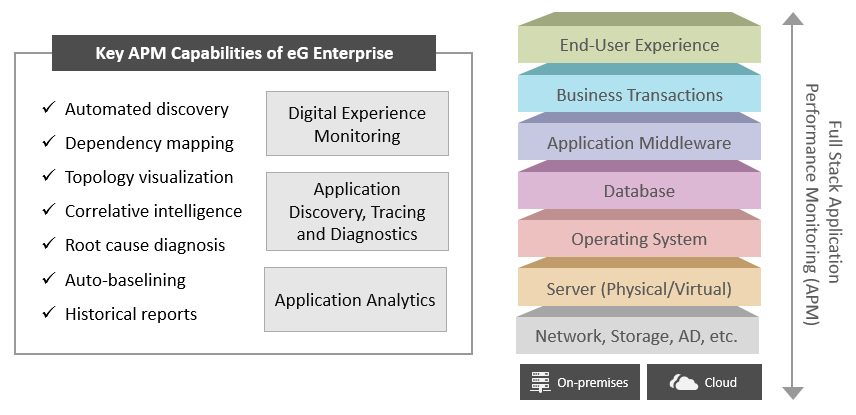 Delivering customer experience insights, combined with application performance metrics and correlated infrastructure visibility, eG Enterprise unifies all aspects of IT monitoring in a unified monitoring solution and helps organizations ensure success in their digital transformation initiatives. Going beyond performance monitoring, eG Enterprise offers additional capabilities to manage applications and the supporting IT infrastructure:
Leverage built-in machine learning capabilities to auto-baseline all aspects of the infrastructure
Use predictive analytics to help plan for capacity expansion and infrastructure right-sizing
Monitor configuration changes in context of application performance
Simplify troubleshooting using built-in and customizable script-based control action
Streamline incident and problem management using native integration with ITSM tools
Offering built-in monitoring models, intuitive dashboards and actionable reports, eG Enterprise is an end-to-end, best-of-breed monitoring tool for any custom or packaged application, including Java, .NET, SAP, Siebel, PeopleSoft, Microsoft Dynamics, SharePoint, Exchange, Citrix, VMware Horizon, and more.
Key benefits for application owners, IT ops, devops and developers:
Ensure fast and seamless application service delivery to end-users
Increase business productivity and customer satisfaction by ensuring high application performance
Triage application problems faster with actionable insights and deep performance diagnostics
Right-size the IT infrastructure to support additional application workloads
Increase ROI and productivity by ensuring peak performance of applications on-premises and in the cloud
Learn more about APM with eG Enterprise »
Watch an eG Enterprise demo, on demand »
Download the Converged APM/IPM white paper »
eG Enterprise is an Observability solution for Modern IT. Monitor digital workspaces,
web applications, SaaS services, cloud and containers from a single pane of glass.