I remember in the starting years, when I was walking in the streets of The Hague with Anand Sampath (CFO of eG Innovations), that we discussed the ambitions we had for the BENELUX region. We were in the business area of The Hague and saw many well-known brand names, and Anand answered: "One day, most of these companies will be customers of eG Innovations" – and he was right! Today, most of the well-known partners and customers in the Benelux are using our software to make sure their end users can work efficiently, and that their IT teams are happy with the solution they can use to support their business.
How it all started for eG Innovations in the BENELUX
eG Innovations, a leader in IT monitoring solutions, was founded in 2001. Having a solid growth strategy, the company expanded to Europe amongst other regions. After selling and implementing eG Enterprise software at some Dutch companies, it became clear that the BENELUX region needed a local team. They hired Chris van den Berg (Pre-Sales Consultant) and myself (Renne Bots, Area Sales Manager) and we started to develop the market, planned demos and did a lot of Proof of Concepts for new partners and new customers. From the very first day, we have been focused on building an eG Innovations partner network in the region. We believe that partners understand their customers the best and can best support their customers' needs.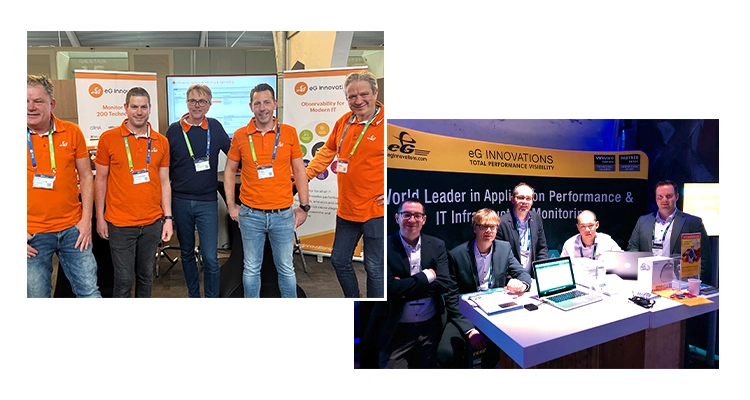 From the start, it was important for us to have as many customer meetings as possible. Every meeting helped us to understand the market requirements and to get to know how to map these requirements into features of the eG Enterprise solution and bring value to customers. In the beginning it was not always easy. Chris and I had a different IT background and eG Enterprise was new to both of us. From year two onwards, we got more opportunities in the focus area of eG and the first large projects started. We signed important strategic partnerships with different type of partners in The Netherlands, for example PQR, INISI, Centric FSS and ATOS and in Belgium with partners like Raido (later Securelink; Orange Business) and Centix (later part of Econocom). We are proud to see that most of the customers and partners from our early years are still with us (e.g. Groene Hart Ziekenhuis, RSVZ-Inasti, Orange (formerly Mobistar), Atos, DXC Technology, Nimble). Over the last 10 years we have onboarded more than 75 customers in the Benelux region and today we have 10 partners in the Benelux region.
The eG Innovations Organization – over the years
Over the years, we continued to develop the team in the Benelux. We have grown to a team of 7 people today, still based in The Hague (Den Haag) with our office now moved from Babylon Gardens to the WTC Business Center.
All projects we do in the Benelux region are supported by eG consultants from the eG EU Technical team in Chennai (India). The team in Chennai has grown from 8 people to 30 people today to support all projects we do. The eG Innovations HR and Finance teams are located in Singapore and support all teams worldwide. We have eG Global Marketing in place but over the years we have found that it is also important to have local marketing support as each market is different.
The eG Enterprise Solution – Version 6 and Version 7
eG Innovations has always been focused on delivering the best end-to-end monitoring solution for Virtual- and Cloud environments. From day one we have been focused on selling to enterprises and Managed Service Providers (MSPs) that are using Citrix (XenApp/VDI) and VMware. With our value-added partners we implemented eG Enterprise to their customers. Often, our implementations were a part of a new digital workspace rollout or an expansion project. Sometimes, customers selected eG Enterprise to support their migration project(s) – from one version to another, from on-prem to the cloud, or from older hardware to newer systems. Having benchmarks and metrics before, during, and after migration was of significant value to them.
When I started, in 2013, we supported "standard out of the box" about 175+ applications and components. Over the years this list has expanded and today we support more than 250+ out of the box. In my opinion, it is very impressive that we are able to align and grow the software solution with the requirements of our partners and customers.
In 2019 we launched eG Enterprise V7 and this was an important new version as we added a lot of extra functionality for End User Monitoring. We offer three different technologies to be able to deliver the best solution for the customers' requirements (synthetic monitoring/client emulation/robotic monitoring). These days we see that each new project is focused on monitoring and managing the back-end infrastructure as well as the end user experience. Combining this in one solution is really the strength of eG Enterprise. Version 7 was also the first time we could offer APM (Application Performance Monitoring) to our customers as part of the solution. We can measure the transactions and the code of (web)applications, that are used by the end users, in much more detail than before. APM as part of the total solution suite is very key to most of our customers, for example monitoring Java applications deployed via Citrix.
Changes in the BENELUX Marketplace
In 2013, Citrix and VMware were very important technologies for virtual app and desktop delivery and many customers were implementing this technology to be able to offer a digital workplace that was managed centrally. At that particular time, Cloud was also becoming more and more important. In most meetings we were discussing the cloud strategy of a partner/customer and how we could support them for the next oncoming years with their migration to the cloud. Very often it turned out to be important that we could support the changes in their IT environment over the years with the same solution.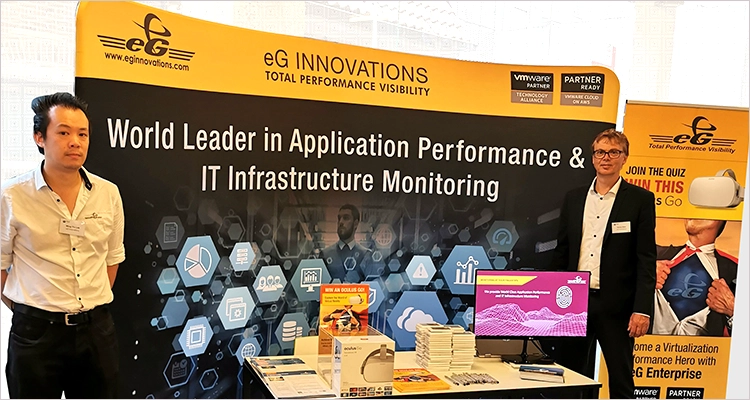 The flexibility of eG Innovations to offer each customer a "license pool" to support different technologies and to easily transfer them between technologies is of interest for many organizations. At that moment in time, new solutions were also coming into the marketplace offering 'hyperconverged infrastructures' (HCI), for example Nutanix; and within 1-2 years we added support for these new technologies as these became important players in our marketplace.
Over the years, we have seen that the market changed for Citrix and VMware, as other strong enterprise vendors have focused on the same marketplace. For example, Microsoft and Amazon are now also focusing on the Digital Workplace with products such as Azure Virtual Desktop (AVD) and Amazon WorkSpaces. We have seen the first new projects are being implemented, based on these new technologies, and I am happy to see how eG Innovations has been able to adopt new requirements and develop new components to the list of supported technologies. We believe it is important for eG Innovations to have regular customer and partner meetings and to listen to the requirements of the market.
eG Innovations in the BENELUX – Today and the Future
As we at eG Innovations enter our second decade in the BENELUX, I am more excited than ever about the future. Our recent latest release has expanded our capabilities for Digital Workspaces and Cloud and Infrastructure even further. Our mature automation and AIOps technologies place us well to meet customer demand for auto-scaling, self-healing and microservice based systems. We continue to grow our European teams to ensure we are physically available to visit customers, attend key events and community groups as demand grows.
Collaboration with our BENELUX Partners
We are very happy to see that we have become a well-known vendor in the virtualization marketplace and that important partners and customers in this region have selected eG Innovations as their partner for the future. Large international organizations, with new innovative projects, often very specific and clearly defined requirements, rely on our technology.
I would like to take the opportunity to thank all the members of the eG Innovations team and also our partners and customers for their trust. Looking forward to continuing working together in the future!
– Renne Bots, Area Sales Manager DACH & BENELUX
eG Enterprise is an Observability solution for Modern IT. Monitor digital workspaces,
web applications, SaaS services, cloud and containers from a single pane of glass.
eG Enterprise is an Observability solution for Modern IT. Monitor digital workspaces,
web applications, SaaS services, cloud and containers from a single pane of glass.