Should you leave the cloud? Is cloud migration reversing? Is cloud repatriation a growing trend? On-premises vs. Cloud – which is best? How do you futureproof your IT and protect your business through recession or uncertainty, whether that's in Cloud or On-prem? Today's article is about keeping your options open within the context of recent economic and technological trends.
On-premises, Towards Cloud and Cloud Repatriation
The Cloud vs On-prem debate continues to evolve from the IBM Mainframes and dumb terminals models of 1960/70s to on-prem PCs, workstations and servers in the 1990s/2000s, to cloud and thin-clients via VDI. The balance of costs, flexibility, security, risks, and ease of deployment and management fluctuates and evolves constantly in an ever-changing world.
Whilst there is a continual push towards migration to the cloud, there is and has always been a steady (smaller) reverse flow of migration back to on-premises solutions, often called cloud repatriation. When a high-profile business takes steps to cloud repatriation it makes other organizations re-evaluate whether anything has changed and whether their own Cloud usage is still the most appropriate. Today I'll cover a few of the most recent data points against which people are evaluating cloud migration strategies and cover ways to future-proof your IT infrastructure to allow you to leverage on-premises or Cloud technologies interchangeably.
CIO published a good article in the context of the pandemic rush to cloud that provides good context against which to consider recent debate, see: CIOs contend with rising cloud costs | CIO.
Basecamp – "Why we're Leaving the Cloud!"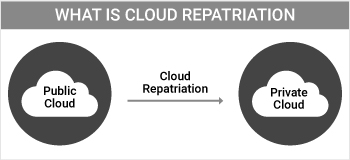 The debate has kicked off again largely in part to a widely circulated blog titled "Why we're leaving the cloud!" posted by David Heinemeier Hansson about why Basecamp (hey.com) plan to leave public cloud and move back to on-premises IT infrastructure. A lot of the arguments around leaving cloud are around having a fairly stable business pipeline with steady slow growth and the costs of cloud. I can't help but feel the very public declaration of _intent_ to leave is a dig at their current cloud providers' pricing models – perhaps a data point in itself towards the value of a multi-cloud strategy and the use of cloud-independent tools. There is a fair bit of commentary around the Basecamp announcement – see Basecamp decamps from cloud: Renting computers a 'bad deal' • The Register and Basecamp and Hey move off of the cloud – DCD (datacenterdynamics.com).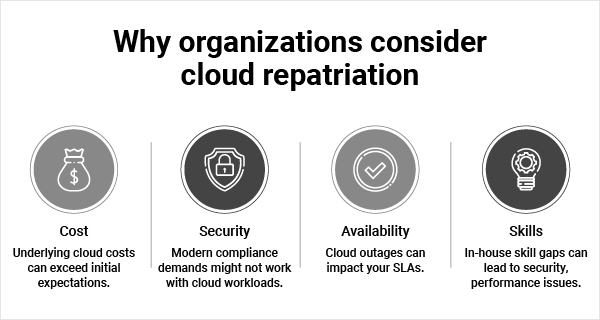 Huh? – Didn't Zynga Do This a While Back?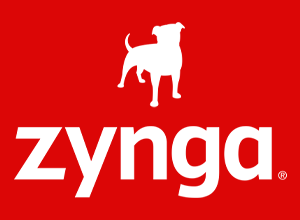 Veterans may remember Zynga very publicly implementing a cloud repatriation strategy back in 2009. Zynga were the folk behind Farmville, a game that exploded in popularity, growing with a then nascent Facebook. Leveraging AWS, they were able to grow exponentially in revenue, but they ended up with large Amazon bills. At this point, they decided that on-premises would be a more cost-effective model.
Anyway, a few years later, Zynga ditched the repatriation idea and went back to Cloud. You can read about their journey in: The Return to the Cloud – Perspectives (mvdirona.com), there were numerous factors involved especially the evolution of the gaming markets particularly on Facebook and in the mobile market that make this not exactly an enterprise textbook case study. Again, a lot of the arguments involved around Zynga's original decision to invest in on-premises hardware focus on cloud costs at scale.
Update 11th January 2023: More information on Basecamp and Hey's moving from the cloud journey has been released, SUSE and other vendors' enterprise pricing is proving challenging, provoking more debate around and comparative data on Cloud vs. On-prem costs – see: The only thing worse than cloud pricing is the enterprisey alternatives (hey.com). Comments around this article on forums such as LinkedIn are very interesting, see: (1) Post | LinkedIn and https://www.linkedin.com/posts/david-heinemeier-hansson-374b18221_the-only-thing-worse-than-cloud-pricing-is-activity-7018596175758938112-vpIt. An easy to consume summary from The Register is now also available, see: Basecamp details $3.2 million bill that saw it quit cloud • The Register.
Update 21st Feb 2023: Some more numbers / math from Basecamp – current estimations / calculations are they may save $7M over 5 years, details here: We stand to save $7m over five years from our cloud exit (hey.com). Update 22nd Feb 2023: Another update covering values/ethics driving the decision beyond and including costs: Five values guiding our cloud exit (hey.com).
Update 2nd March 2023: Meanwhile, Uber have been doing some number crunching and come to the conclusion going all in on cloud and ditching on-prem is for them: Uber Ditches On-Prem and Hooks Future to GCP and Oracle Cloud (datacenterknowledge.com), a interesting choice of multi-cloud strategy with a mix of Oracle and GCP, Google probably not surprising since I imagine their expertise in mapping is particularly relevant to Uber.
Data on Cloud Usage Trends including Cloud Repatriation
A few well-socialized and slightly sensationalized headlines don't really tell the whole picture. The Zynga and Basecamp stories raise factors that are serious considerations but mostly demonstrate that it's the nuances and micro-details of each individual business that really dictate the optimal choice.
In general, there is still an overriding sentiment and movement towards cloud ("Cloud First" strategies). Particularly in geographies where skill shortages mean finding enough skilled staff to set up and run anything on-premises is very challenging. Although it is worth noting, those committing to a public cloud strategy are often becoming increasingly stringent on local region availability – in January 2023, insurance giant Zurich announced a strategy of migration to AWS centered around new Swiss regions, stating "We look forward to using the new AWS region in Switzerland to support our regulatory reporting requirements." (see: Zurich Insurance Group plots multiyear move to AWS public cloud | Computer Weekly).
eG Innovations regularly conducts surveys on cloud usage and our recent data still confirms an overall trend towards cloud services. These are large survey sets with typically 500+ or 1000+ that may help those making decisions present supporting data for strategies:

Mitigating Risks in these Crazy Times
Gartner's Emerging Risk Reports for Q2 2022 recently ranked the top five emerging risks as:
Macro-economic downturn
Escalation of conflict in Europe
State-sponsored cyber attacks
Energy price inflation
Key material shortages
I've mentioned this because a lot of these risks could well influence your Cloud vs. On-premises decisions, let us consider a few:
An economic downturn: This could lead to certain types of business facing a significant contraction in their business, revenues, staffing and IT needs and the ability to scale down that cloud offers could be helpful.
War… Not great to see this one on the list and not one discussed in the past around case studies like Zynga. In geographies such as Europe, this factor is having a direct impact on energy costs and unregulated non-domestic electricity prices in certain countries are impacting businesses. Beyond Europe, energy inflation as cited by Gartner is a worldwide issue partly because of worldwide markets being affected but also climate events and other factors. The costs of and their uncertainty when running your own data center may lead many to prefer the certainty of a fixed-term cloud contract.
State-sponsored cyber-attacks: This one could probably push folks either way, some towards cloud but also others away from it. Some are turning to trusted cloud giants such as Amazon and Microsoft and their standardized security offerings, particularly those with doubts over their organization's ability to execute and staff security competently in-house. Whilst some will want to take control and ensure fuller control leveraging bespoke solutions and expertise in-house beyond generic offerings.
Material shortages: if you use cloud that kind of becomes their problem to source enough servers, but also leaves you at the mercy of a few suppliers and pricing models. Although even in the height of COVID shortages, cloud availability problems were not dramatic.
Is Cloud or On-premises the Future? Cloud Migration or Repatriation?
There's a huge amount of good and interesting information out there on trends and the reasons to choose a certain path. Some links you might like to explore include:
The takeaway though is with so much change and uncertainty in the world, who Cloud vs on-premises suits best does change. Your organization's needs may change, cloud pricing models may change but by choosing vendors and products that allow you to choose the best available options in the future will allow you to be agile and flexible and adapt to whatever factors beyond your control throw at you.
Choosing Tools that Leave you Free to Lift and Shift!
As a neutral, third-party monitoring and observability platform (see: Observability vs. Monitoring: What is the Difference?), eG Enterprise is designed to allow organizations to migrate between Cloud and on-prem technologies as needed and help them avoid getting locked to a particular cloud vendor and so on. Using a single third-party independent tool allows you to avoid investing in tooling and monitoring configuration and training for staff. Cloud-native and proprietary vendor tools often act as a barrier to transition.
Moreover, a good observability platform will allow you to assess whether on-prem or Cloud is the best choice, allow you to benchmark before transition, set measurable goals to define migration success and allow you to continually monitor through transition without the disruption and costs of retraining staff on new monitoring tools.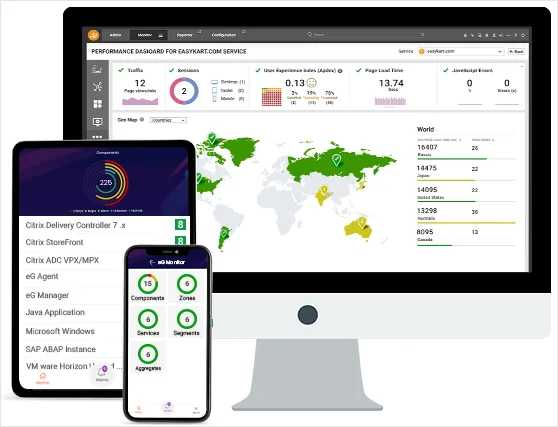 Key features for an agile observability platform:
Cloud agnostic: If Cloud is for you, you probably don't want to get tied to a particular pricing model or region extent of a single cloud. Ensuring your tools (as eG Enterprise does) cover all the main clouds (Amazon AWS, Microsoft Azure and Google GCP) and their comparable technologies is usually wise. Increasingly we are also seeing hybrid and multi-cloud environments where customers choose the best in class for individual services, see: Monitoring and Troubleshooting Multicloud Infrastructures (eginnovations.com).
Broad coverage of on-premises and cloud technologies: A good enterprise monitoring and observability platform will support a vast range of both on-premises and cloud technologies and any interdependencies between them within a single interface. eG Enterprise for example supports 250+ different technology stacks, see: IT Monitoring for Applications, Cloud, Containers, Virtualization and more | eG Innovations.
Automation and AIOps: If you have the slightest doubt or inkling that you may at some point want to adjust your on-premises vs cloud mix, always choose a monitoring solution with auto-deployment and auto-discover technologies and beyond that AIOps type features that will automate the setup of metric thresholds and alerting.

Transferable licensing: eG Enterprise operates a transferable license model so as you move between technologies you can move your monitoring. For example, you can smoothly migrate your monitoring capabilities between on-prem Microsoft SQL Server and Azure SQL Managed Instances as you require, or between on-premises VMware and Azure AVD workspaces etc. See: Circular IT series – eG Innovations: Zero waste strategies via flexible ISV licensing (computerweekly.com) for additional benefits.
On-premises, Cloud and SaaS options: Certain regulated and compliance-oriented industries need to retain the control that on-premises gives them, and SaaS or cloud hosted monitoring simply isn't an option. Unfortunately, the rush to cloud means many monitoring and third-party vendors no longer offer an on-premises option and if they do it can often be a separate interface and a second-class product with feature gaps. eG Enterprise is committed to offering a single product with feature parity regardless of how our customers need to deploy it, see Deploying IT Monitoring – SaaS or On-Premises (eginnovations.com). As Zurich moving to a Swiss region on AWS for compliance shows, MSPs need to be careful in selecting cloud-hosted SaaS monitoring platforms to ensure the SaaS provider has options that comply with the needs of local customers.
Established, proven record as a vendor: Many of the risks Gartner highlighted are worldwide macro-economic concerns, large scale disruption such as that due to Covid, financial market turmoil, inflation and energy crises can cause smaller, less stable vendors to go bust or disappear, particularly those based on flaky VC (Venture Capital) funding models. An established, profitable vendor with stable financials and a large customer base such as
eG Innovations avoids such concerns.
No data lock in: A good observability solution will provide you with long-term usage data, trend analysis and capacity planning information. Data that will help you assess decisions and success as you implement change. When choosing monitoring tools ask about how you can extract and retain that data long term and how much the extraction will cost particularly if using cloud native tools. We are always happy to explain to our customers how they will retain ownership of and access to their usage data, long term, with eG Enterprise.
Since writing this article I've written another about a sub-trend for using local MSPs (often where MSP and customer are located in a single country), organizations who want data local to them but not necessarily on-prem, see: How MSPs can Capitalize on the Rush to Localize IT Services.
eG Enterprise is an Observability solution for Modern IT. Monitor digital workspaces,
web applications, SaaS services, cloud and containers from a single pane of glass.
Further Information